3 Amigos Mexican Restaurants - Yorktown version 1.0
Genre: Food & Drink,
Title: 3 Amigos Mexican Restaurants - Yorktown
Version: 1.0
File size: 43.5 MB
Date released: 2015-06-11T02:03:00Z
Developer: Elvis C Soto-Serrano
Rating: 4+
Price: Free
Scan this image
DOWNLOAD PAGE
Share 3 Amigos Mexican Restaurants - Yorktown ^^
Supported Devices: 3 Amigos Mexican Restaurants - Yorktown 1.0 is compatible with iPadMini4Cellular-iPadMini4Cellular, iPadThirdGen4G-iPadThirdGen4G, iPad72-iPad72, iPodTouchFourthGen-iPodTouchFourthGen, iPad612-iPad612, iPhoneX-iPhoneX, iPhone3GS-iPhone-3GS, iPhone5c-iPhone5c, iPad71-iPad71, iPadProCellular-iPadProCellular, iPadMiniRetinaCellular-iPadMiniRetinaCellular, iPhone6-iPhone6, iPadFourthGen4G-iPadFourthGen4G, iPhone8-iPhone8, iPadMini4G-iPadMini4G, iPadAirCellular-iPadAirCellular, iPadPro-iPadPro, iPhoneSE-iPhoneSE, iPadMini4-iPadMini4, iPad2Wifi-iPad2Wifi, iPad73-iPad73, iPhone6s-iPhone6s, iPodTouchSixthGen-iPodTouchSixthGen, iPad611-iPad611, iPadMini3Cellular-iPadMini3Cellular, iPhone8Plus-iPhone8Plus, iPhone5s-iPhone5s, iPodTouchFifthGen-iPodTouchFifthGen, iPadThirdGen-iPadThirdGen, iPhone6sPlus-iPhone6sPlus, iPadAir2Cellular-iPadAir2Cellular, iPhone5-iPhone5, iPhone4-iPhone4, iPhone6Plus-iPhone6Plus, iPhone7-iPhone7, iPadPro97Cellular-iPadPro97Cellular, iPad74-iPad74, iPadPro97-iPadPro97, iPhone4S-iPhone4S, iPadAir-iPadAir, iPadMini-iPadMini, iPadAir2-iPadAir2, iPhone7Plus-iPhone7Plus, iPadMiniRetina-iPadMiniRetina, iPadFourthGen-iPadFourthGen, iPadMini3-iPadMini3, iPad23G-iPad23G. Android and Windows Phone devices are supported when you access this page via your flatforms.
Tip: Access this page via QR code scan application on your smartphones.
App Screenshots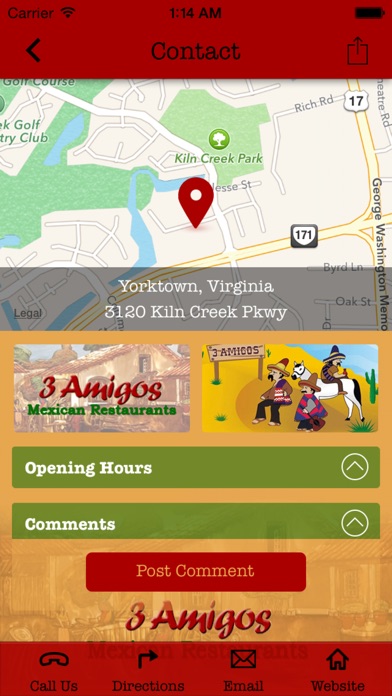 More information about 3 Amigos Mexican Restaurants - Yorktown version 1.0
Welcome to 3 Amigos Mexican Restaurants

We at 3 Amigos Mexican Restaurants pride ourselves on providing our customers with a unique and pleasurable dining experience.

We Thank you for downloading our 3 Amigos apps and appreciate your interest in our services.

If you have any questions feel free to contact us. We care about the good taste of our food as well as providing our customers with personal, hospitable service. We are proud to be part of this beautiful community and hope to always make your time with us enjoyable.

Our mission at 3 Amigos Mexican Restaurants is simple: to serve you the best authentic Mexican food and drink possible at a comfortable price. So come on by and relax, we are here to serve you, family and your friends.

App Features:

• Take advantage of 3 Amigos Mexican Restaurant Specials
• Receive instant messages so you never miss out on valuable coupons
• View our array of dishes in the 3 Amigos gallery
• Be one of the first to hear about upcoming events
• Share your experience with 3 Amigos Mexican Restaurant with friends and family
• Leave a comment, and find out what others are saying, on our Fall Wall
• Peruse our menu when deciding just what to order
• Use the "Find my Car!" tab to easily locate your vehicle after your visit!
Leave a comment
Tag: 3 Amigos Mexican Restaurants - Yorktown , 3 Amigos Mexican Restaurants - Yorktown
Related games & apps