Depression Symptoms version 1.0

Scan this image
DOWNLOAD PAGE
Share Depression Symptoms ^^
Supported Devices: Depression Symptoms 1.0 is compatible with iPadMiniRetinaCellular-iPadMiniRetinaCellular, iPadAir2-iPadAir2, iPadMini4Cellular-iPadMini4Cellular, iPadMini4G-iPadMini4G, iPadThirdGen-iPadThirdGen, iPad71-iPad71, iPhone5c-iPhone5c, iPad2Wifi-iPad2Wifi, iPadAir2Cellular-iPadAir2Cellular, iPhoneSE-iPhoneSE, iPhone3GS-iPhone-3GS, iPodTouchSixthGen-iPodTouchSixthGen, iPadFourthGen4G-iPadFourthGen4G, iPadProCellular-iPadProCellular, iPad72-iPad72, iPadMini4-iPadMini4, iPhoneX-iPhoneX, iPad73-iPad73, iPhone6-iPhone6, iPadMiniRetina-iPadMiniRetina, iPhone6sPlus-iPhone6sPlus, iPadAirCellular-iPadAirCellular, iPodTouchFourthGen-iPodTouchFourthGen, iPad74-iPad74, iPhone7-iPhone7, iPhone6Plus-iPhone6Plus, iPhone5-iPhone5, iPad612-iPad612, iPhone8Plus-iPhone8Plus, iPadFourthGen-iPadFourthGen, iPhone7Plus-iPhone7Plus, iPhone4-iPhone4, iPadPro97Cellular-iPadPro97Cellular, iPhone6s-iPhone6s, iPad23G-iPad23G, iPadPro97-iPadPro97, iPadMini3-iPadMini3, iPhone8-iPhone8, iPadMini-iPadMini, iPadThirdGen4G-iPadThirdGen4G, iPad611-iPad611, iPadPro-iPadPro, iPadMini3Cellular-iPadMini3Cellular, iPodTouchFifthGen-iPodTouchFifthGen, iPhone5s-iPhone5s, iPhone4S-iPhone4S, iPadAir-iPadAir. Android and Windows Phone devices are supported when you access this page via your flatforms.
Tip: Access this page via QR code scan application on your smartphones.
App Screenshots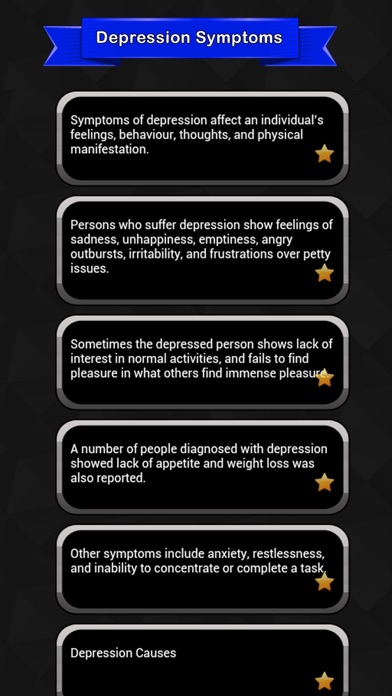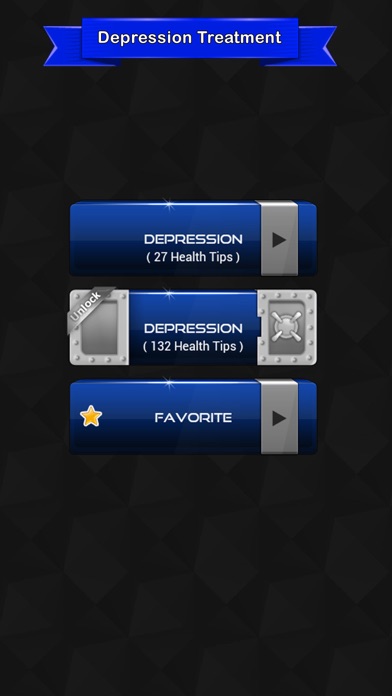 More information about Depression Symptoms version 1.0
Am I depressed? Should I be seeing a therapist? How much longer am I going to feel this fatigue, sadness and weak? Is there a depression test? What are the depression symptoms? Perhaps these are some of the questions you are asking yourself, or maybe you know someone who you suspect is depressed. In either case you have absolutely come to the right place because this app holds the key to all of your questions.

Depression affects an estimated 121 million people worldwide. It's important to know the risk factors and signs of depression. This app covers all types of depression, severe, chronic, manic, major depressive disorder, clinical, bipolar and postpartum depression. Did you also know that reoccurring depressive episodes throughout your life could put you at elevated risk for heart disease?

We have answers for every important issue, symptoms of depression, depression medication, causes, prevention and depression treatment. You have discovered a vast resource for identifying the facts you need to know to help yourself or someone you know live a happier life. Download now and get depression help right away!
Leave a comment