DexEnceph Encephalitis Case Reporter version 1.0

Genre: Medical,
Title: DexEnceph Encephalitis Case Reporter
Version: 1.0
File size: 5.3 MB
Date released: 2015-11-04T10:55:21Z
Developer: University of Liverpool
Rating: 4+
Price: Free
Scan this image
DOWNLOAD PAGE
Share DexEnceph Encephalitis Case Reporter ^^
Supported Devices: DexEnceph Encephalitis Case Reporter 1.0 is compatible with iPadPro97Cellular-iPadPro97Cellular, iPhone5-iPhone5, iPadMini4Cellular-iPadMini4Cellular, iPadPro97-iPadPro97, iPhoneSE-iPhoneSE, iPadMini4-iPadMini4, iPodTouchFourthGen-iPodTouchFourthGen, iPadAir-iPadAir, iPhone5c-iPhone5c, iPadThirdGen-iPadThirdGen, iPadFourthGen4G-iPadFourthGen4G, iPadMini-iPadMini, iPadProCellular-iPadProCellular, iPadMini4G-iPadMini4G, iPad72-iPad72, iPadAir2-iPadAir2, iPadMiniRetinaCellular-iPadMiniRetinaCellular, iPad71-iPad71, iPhone4S-iPhone4S, iPhone4-iPhone4, iPhone6sPlus-iPhone6sPlus, iPad611-iPad611, iPhone6s-iPhone6s, iPhone3GS-iPhone-3GS, iPadFourthGen-iPadFourthGen, iPodTouchFifthGen-iPodTouchFifthGen, iPhone7-iPhone7, iPhoneX-iPhoneX, iPadMini3-iPadMini3, iPhone6Plus-iPhone6Plus, iPadMini3Cellular-iPadMini3Cellular, iPad73-iPad73, iPhone5s-iPhone5s, iPadAirCellular-iPadAirCellular, iPhone8Plus-iPhone8Plus, iPhone8-iPhone8, iPad74-iPad74, iPodTouchSixthGen-iPodTouchSixthGen, iPhone6-iPhone6, iPadMiniRetina-iPadMiniRetina, iPad2Wifi-iPad2Wifi, iPadPro-iPadPro, iPadAir2Cellular-iPadAir2Cellular, iPad23G-iPad23G, iPhone7Plus-iPhone7Plus, iPad612-iPad612, iPadThirdGen4G-iPadThirdGen4G. Android and Windows Phone devices are supported when you access this page via your flatforms.
Tip: Access this page via QR code scan application on your smartphones.
App Screenshots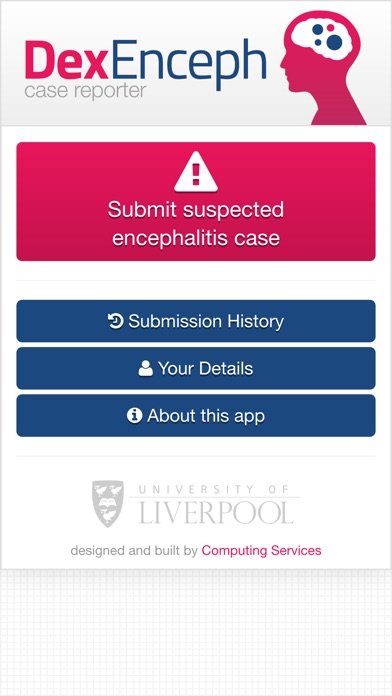 More information about DexEnceph Encephalitis Case Reporter version 1.0
DexEnceph Encephalitis Case Reporter is a new tool to help clinicians and laboratory staff quickly and easily report cases of suspected or confirmed HSV encephalitis to researchers at the University of Liverpool's Brain Infections Group.

DexEnceph Case Reporter - It couldn't be simpler…

If you know of a case of suspected HSV encephalitis just launch the app and hit "report suspected case", then we'll take care of the rest.

Clinicians, please use it for:

Any patient with suspected encephalitis
A confirmed diagnosis of HSV encephalitis
Any patient receiving intravenous acyclovir
All CSF requests for HSV PCRs

Lab staff, please use it for:

All CSF that needs testing for HSV PCR
An HSV PCR that is positive in CSF

Suspected encephalitis is defined as: new onset seizure, or, new focal neurology, or, alteration in consciousness, cognition, personality or behaviour

How does it work?

The app sends an alert to our research team, who will make contact with on-site research staff at the patient's location. All you have to do is tell us the hospital and ward where the patient is. No need to share confidential patient details, and no hassle for you.
Leave a comment
Tag: DexEnceph Encephalitis Case Reporter , DexEnceph Encephalitis Case Reporter