FCA Bank Digital Assistant version 1.0.4
Genre: Finance, Navigation,
Title: FCA Bank Digital Assistant
Version: 1.0.4
File size: 8.39 MB
Date released: 2015-06-27T01:27:23Z
Developer: FCA Bank S.p.A.
Rating: 17+
Price: Free
Scan this image
DOWNLOAD PAGE
Share FCA Bank Digital Assistant ^^
Supported Devices: FCA Bank Digital Assistant 1.0.4 is compatible with iPadAirCellular-iPadAirCellular, iPad72-iPad72, iPhone6s-iPhone6s, iPad612-iPad612, iPadMini4Cellular-iPadMini4Cellular, iPhone4-iPhone4, iPadPro-iPadPro, iPhone6sPlus-iPhone6sPlus, iPodTouchFifthGen-iPodTouchFifthGen, iPadMini4-iPadMini4, iPad2Wifi-iPad2Wifi, iPad23G-iPad23G, iPadAir2Cellular-iPadAir2Cellular, iPhone7Plus-iPhone7Plus, iPhone5c-iPhone5c, iPhone5s-iPhone5s, iPadFourthGen-iPadFourthGen, iPhone4S-iPhone4S, iPadAir2-iPadAir2, iPhone7-iPhone7, iPhone5-iPhone5, iPad611-iPad611, iPadMini3Cellular-iPadMini3Cellular, iPadThirdGen-iPadThirdGen, iPadThirdGen4G-iPadThirdGen4G, iPadMini-iPadMini, iPad73-iPad73, iPadPro97-iPadPro97, iPhone6Plus-iPhone6Plus, iPadMiniRetina-iPadMiniRetina, iPadProCellular-iPadProCellular, iPadMiniRetinaCellular-iPadMiniRetinaCellular, iPadPro97Cellular-iPadPro97Cellular, iPadAir-iPadAir, iPadMini4G-iPadMini4G, iPhoneSE-iPhoneSE, iPad74-iPad74, iPad71-iPad71, iPhone6-iPhone6, iPadMini3-iPadMini3, iPodTouchSixthGen-iPodTouchSixthGen, iPadFourthGen4G-iPadFourthGen4G. Android and Windows Phone devices are supported when you access this page via your flatforms.
Tip: Access this page via QR code scan application on your smartphones.
App Screenshots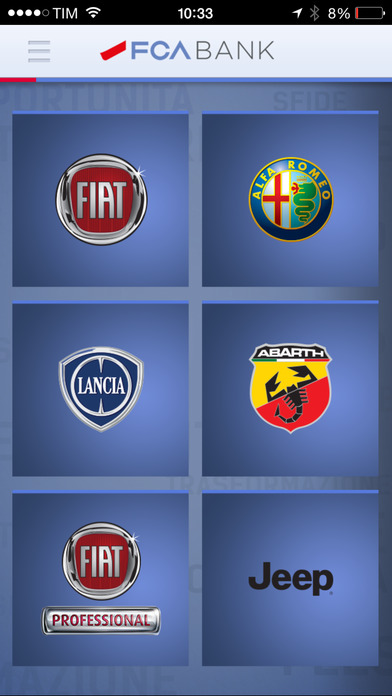 More information about FCA Bank Digital Assistant version 1.0.4
FCA Bank offre i suoi prodotti e servizi finanziari nella maggior parte dei Paesi Europei e in Marocco a concessionari e clienti finali dei brand del Gruppo FCA nonché ai marchi dei suoi partner.
Da una competenza pluriennale nei servizi finanziari e da un'inesauribile passione per l'automotive nasce il tuo Assistente Digitale: scarica l'App FCA Bank e accedi ai finanziamenti per l'acquisto della tua auto.
FCA Bank è sempre più vicina alle tue esigenze di mobilità con un nuovo canale di contatto. Potrai conoscere in maniera facile, immediata ed innovativa le ultime offerte finanziarie, salvarle e condividerle. Entra in concessionaria e attiva il Bluetooth dalle impostazioni del tuo Smartphone.
FCA Bank sarà lieta di segnalarti le promozioni del mese, invitandoti ad interagire con il Totem Digital Assistant che troverai all'interno del Concessionario.
Scopri le soluzioni di finanziamento per i nostri marchi.
Leave a comment
Tag: FCA Bank Digital Assistant , FCA Bank Digital Assistant