Password Dial version 1.0.4
Genre: Productivity, Travel,
Title: Password Dial
Version: 1.0.4
File size: 38.73 MB
Date released: 2015-06-12T04:33:35Z
Developer: Ivan Kougaenko
Rating: 4+
Price: $0.99
Scan this image
DOWNLOAD PAGE
Share Password Dial ^^
Supported Devices: Password Dial 1.0.4 is compatible with iPhone7-iPhone7, iPadMini4Cellular-iPadMini4Cellular, iPadMini3Cellular-iPadMini3Cellular, iPhone6-iPhone6, iPadMini4G-iPadMini4G, iPadAir-iPadAir, iPhone6Plus-iPhone6Plus, iPad2Wifi-iPad2Wifi, iPadThirdGen4G-iPadThirdGen4G, iPhone8Plus-iPhone8Plus, iPad71-iPad71, iPhoneSE-iPhoneSE, iPhone5c-iPhone5c, iPadPro-iPadPro, iPad73-iPad73, iPadMini4-iPadMini4, iPhone5-iPhone5, iPad72-iPad72, iPadPro97-iPadPro97, iPhone8-iPhone8, iPadMini3-iPadMini3, iPhone4S-iPhone4S, iPhone6sPlus-iPhone6sPlus, iPadAirCellular-iPadAirCellular, iPad612-iPad612, iPadThirdGen-iPadThirdGen, iPodTouchFifthGen-iPodTouchFifthGen, iPhone4-iPhone4, iPadFourthGen-iPadFourthGen, iPad23G-iPad23G, iPad611-iPad611, iPhone5s-iPhone5s, iPadMini-iPadMini, iPodTouchSixthGen-iPodTouchSixthGen, iPadMiniRetina-iPadMiniRetina, iPhone6s-iPhone6s, iPhoneX-iPhoneX, iPadProCellular-iPadProCellular, iPadAir2-iPadAir2, iPadFourthGen4G-iPadFourthGen4G, iPadMiniRetinaCellular-iPadMiniRetinaCellular, iPadAir2Cellular-iPadAir2Cellular, iPadPro97Cellular-iPadPro97Cellular, iPad74-iPad74, iPhone7Plus-iPhone7Plus. Android and Windows Phone devices are supported when you access this page via your flatforms.
Tip: Access this page via QR code scan application on your smartphones.
App Screenshots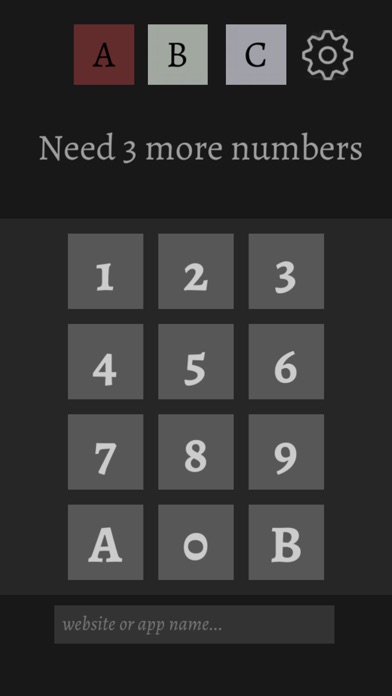 More information about Password Dial version 1.0.4
Need a password? You got one!

*** see Puzzwords app for a fully functioning Free version of this app with slightly reduced functionality.

Create and recall all types of passwords for websites, apps, or anything you need. It is the simplest Password Manager out there.

Passwords are never saved so the information is always secure. Does not require internet connection. Recall passwords by "dialing" a three to six digit combination. Customize other options such as letters, symbols, numbers, password length, upper/lower case, and more.

This app was created for those who are tired of constantly coming up with new passwords, forgetting them, or reusing the same password over and over again. It is especially useful when needing access to passwords without internet or when using public wifi spots.

Since passwords are never saved, if you lose your phone, your passwords can be recalled by setting the same options and "dialing" the same combination on another phone.

"Word" password type generates easy to remember word combinations. Length cannot be adjusted for security reasons. For all other types of passwords, length, letters, symbols, and numbers can be adjusted and customized.
Leave a comment
Tag: Password Dial , Password Dial