Powder Fiend - A snow forecast and report tracking app for ski/snowboarding resorts version 1.2
Title: Powder Fiend - A snow forecast and report tracking app for ski/snowboarding resorts
Version: 1.2
File size: 12.12 MB
Date released: 2015-12-19T18:42:39Z
Developer: Christopher Hoffmann
Rating: 4+
Price: $0.99
Scan this image
DOWNLOAD PAGE
Share Powder Fiend - A snow forecast and report tracking app for ski/snowboarding resorts ^^
Supported Devices: Powder Fiend - A snow forecast and report tracking app for ski/snowboarding resorts 1.2 is compatible with iPhoneSE-iPhoneSE, iPhone6s-iPhone6s, iPadMiniRetina-iPadMiniRetina, iPhone7-iPhone7, iPadAir2-iPadAir2, iPadMini3Cellular-iPadMini3Cellular, iPodTouchFifthGen-iPodTouchFifthGen, iPadFourthGen4G-iPadFourthGen4G, iPhone5c-iPhone5c, iPhone6Plus-iPhone6Plus, iPadMini4G-iPadMini4G, iPadMini4Cellular-iPadMini4Cellular, iPhone8-iPhone8, iPodTouchSixthGen-iPodTouchSixthGen, iPhone5-iPhone5, iPadMini3-iPadMini3, iPhone5s-iPhone5s, iPad73-iPad73, iPadAirCellular-iPadAirCellular, iPad72-iPad72, iPadPro97-iPadPro97, iPad23G-iPad23G, iPad611-iPad611, iPadMiniRetinaCellular-iPadMiniRetinaCellular, iPad71-iPad71, iPad612-iPad612, iPhone6sPlus-iPhone6sPlus, iPhone7Plus-iPhone7Plus, iPadPro97Cellular-iPadPro97Cellular, iPhone8Plus-iPhone8Plus, iPadFourthGen-iPadFourthGen, iPad74-iPad74, iPadPro-iPadPro, iPhone6-iPhone6, iPadMini4-iPadMini4, iPadAir2Cellular-iPadAir2Cellular, iPad2Wifi-iPad2Wifi, iPhoneX-iPhoneX, iPadThirdGen-iPadThirdGen, iPhone4S-iPhone4S, iPadMini-iPadMini, iPadThirdGen4G-iPadThirdGen4G, iPadProCellular-iPadProCellular, iPadAir-iPadAir. Android and Windows Phone devices are supported when you access this page via your flatforms.
Tip: Access this page via QR code scan application on your smartphones.
App Screenshots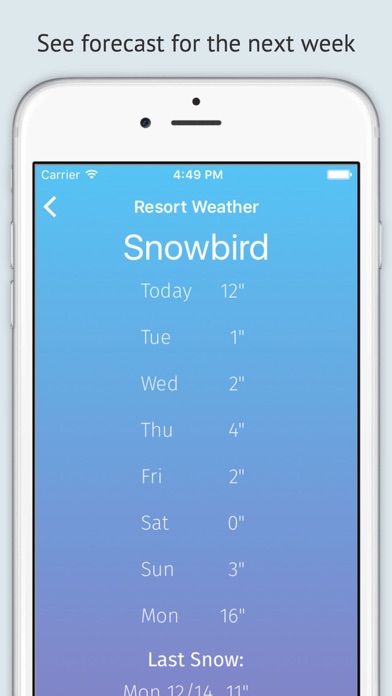 More information about Powder Fiend - A snow forecast and report tracking app for ski/snowboarding resorts version 1.2
Powder Fiend has access to snow forecast and snow report data for over 860 ski resorts in the United States and Canada. Save your favorite ski resorts, and keep track of the last time it snowed / how many inches it snowed, and also see the next time it is going to snow / how many inches are forecasted. Also message your friends straight from the app to let them know about the incoming pow!

Features
----------

- Select and save your favorite ski resort from over 860 resorts in the U.S. and Canada
- Keep track of the next incoming snow / powder forecast
- Keep track of the most recent snow / powder report.
- Quickly message your friends to invite them to ride with you, auto populates the message with the resort / forecast data for you!
Leave a comment
Tag: Powder Fiend - A snow forecast and report tracking app for ski/snowboarding resorts , Powder Fiend - A snow forecast and report tracking app for ski/snowboarding resorts