Ringtones Uncensored UK British Voices Ringtone Creator version 20.1
Genre: Utilities, Entertainment,
Title: Ringtones Uncensored UK British Voices Ringtone Creator
Version: 20.1
File size: 39.27 MB
Date released: 2010-01-21T15:46:52Z
Developer: No Tie, LLC
Rating: 4+
Price: Free
Scan this image
DOWNLOAD PAGE
Share Ringtones Uncensored UK British Voices Ringtone Creator ^^
Supported Devices: Ringtones Uncensored UK British Voices Ringtone Creator 20.1 is compatible with iPadMiniRetinaCellular-iPadMiniRetinaCellular, iPad74-iPad74, iPhone6sPlus-iPhone6sPlus, iPadMini3Cellular-iPadMini3Cellular, iPodTouchFifthGen-iPodTouchFifthGen, iPhone4-iPhone4, iPad71-iPad71, iPadProCellular-iPadProCellular, iPad612-iPad612, iPhone6-iPhone6, iPadPro97Cellular-iPadPro97Cellular, iPhone7-iPhone7, iPadFourthGen4G-iPadFourthGen4G, iPadFourthGen-iPadFourthGen, iPhone5c-iPhone5c, iPadMini4G-iPadMini4G, iPadAir2Cellular-iPadAir2Cellular, iPad73-iPad73, iPad23G-iPad23G, iPhoneSE-iPhoneSE, iPadMini3-iPadMini3, iPad72-iPad72, iPadAir2-iPadAir2, iPhone8Plus-iPhone8Plus, iPadMini-iPadMini, iPadMini4-iPadMini4, iPad2Wifi-iPad2Wifi, iPadThirdGen-iPadThirdGen, iPhone7Plus-iPhone7Plus, iPad611-iPad611, iPadThirdGen4G-iPadThirdGen4G, iPadPro97-iPadPro97, iPadMini4Cellular-iPadMini4Cellular, iPadAir-iPadAir, iPhone4S-iPhone4S, iPhoneX-iPhoneX, iPhone5-iPhone5, iPhone5s-iPhone5s, iPadMiniRetina-iPadMiniRetina, iPhone6s-iPhone6s, iPodTouchSixthGen-iPodTouchSixthGen, iPadPro-iPadPro, iPhone6Plus-iPhone6Plus, iPhone8-iPhone8, iPadAirCellular-iPadAirCellular. Android and Windows Phone devices are supported when you access this page via your flatforms.
Tip: Access this page via QR code scan application on your smartphones.
App Screenshots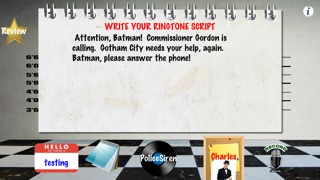 More information about Ringtones Uncensored UK British Voices Ringtone Creator version 20.1
Create 100% unique UNCENSORED Talking Caller ID ringtones for every contact! You type, it talks! PLUS combine Intro Sound FX! Type several lines of text to create any message you want! iPhone users can use ringtones as alarm clock alerts so you can have a message like 'Chris, wake up, it is time to take your sleeping pills!'

WHATEVER YOUR NAME, WHOMEVER IS CALLING, THERE'S A RINGTONE FOR THAT! YOU TYPE, IT TALKS & voila! Your own CUSTOM TEXT-TO-SPEECH RINGTONE! It's like TALKING CALLER ID! Just type:

1) A unique ID (email address recommended) so you can download your 100% ORIGINAL CUSTOM RINGTONES!
2) YOUR MESSAGE ("Batman, Commissioner Gordon is calling and he needs your help, again!" etc.)

Next, select from a variety of fun text-to-speech voices and Sound FX to use as a way to 'get your attention'!

TOUCH CREATE and our server (INTERNET REQUIRED) will create a custom ringtone in iPhone .m4r as well as MP3 formats! This way, you can use your new custom ringtones with other phones! You can share your ringtones via twitter or email! Create a ringtone for your friends' phones for when YOU call THEM!

Download ringtones USING YOUR MAC OR PC by visiting http://RINGTON.ES and enter the same ID (email address recommended) that you typed when you ran the app!

Please consider PRO version to get DOZENS of voices and 100's of Sound FX! UK version includes UK voices.
Leave a comment
Tag: Ringtones Uncensored UK British Voices Ringtone Creator , Ringtones Uncensored UK British Voices Ringtone Creator