RouteDesigner - Running,Walk,Cycling courses version 1.14
Scan this image
DOWNLOAD PAGE
Share RouteDesigner - Running,Walk,Cycling courses ^^
Supported Devices: RouteDesigner - Running,Walk,Cycling courses 1.14 is compatible with iPhone6sPlus-iPhone6sPlus, iPhone6-iPhone6, iPhone8Plus-iPhone8Plus, iPadAirCellular-iPadAirCellular, iPad2Wifi-iPad2Wifi, iPadPro97-iPadPro97, iPadAir2-iPadAir2, iPad72-iPad72, iPadFourthGen4G-iPadFourthGen4G, iPad611-iPad611, iPad74-iPad74, iPadMini3-iPadMini3, iPad612-iPad612, iPadMini3Cellular-iPadMini3Cellular, iPhone8-iPhone8, iPadMini4-iPadMini4, iPad23G-iPad23G, iPadMini4G-iPadMini4G, iPadFourthGen-iPadFourthGen, iPadMiniRetinaCellular-iPadMiniRetinaCellular, iPadAir2Cellular-iPadAir2Cellular, iPhone7Plus-iPhone7Plus, iPhoneX-iPhoneX, iPadThirdGen-iPadThirdGen, iPadPro-iPadPro, iPhone6s-iPhone6s, iPadMini-iPadMini, iPhone4S-iPhone4S, iPadProCellular-iPadProCellular, iPadAir-iPadAir, iPad73-iPad73, iPadPro97Cellular-iPadPro97Cellular, iPodTouchSixthGen-iPodTouchSixthGen, iPadMiniRetina-iPadMiniRetina, iPhone7-iPhone7, iPhone5s-iPhone5s, iPad71-iPad71, iPhoneSE-iPhoneSE, iPhone5-iPhone5, iPadThirdGen4G-iPadThirdGen4G, iPodTouchFifthGen-iPodTouchFifthGen, iPhone6Plus-iPhone6Plus, iPhone5c-iPhone5c, iPadMini4Cellular-iPadMini4Cellular. Android and Windows Phone devices are supported when you access this page via your flatforms.
Tip: Access this page via QR code scan application on your smartphones.
App Screenshots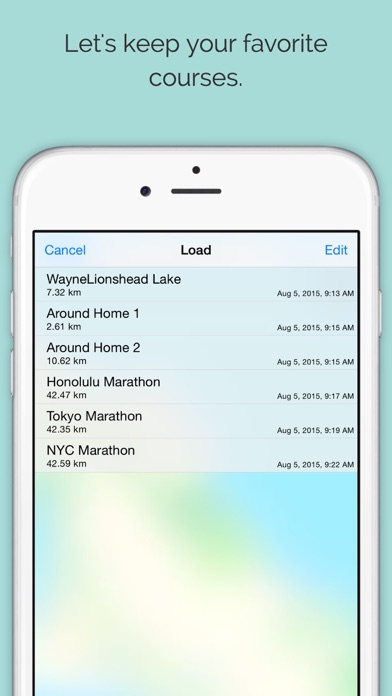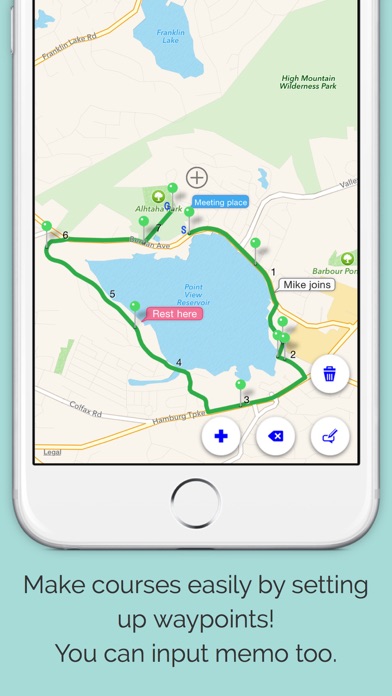 More information about RouteDesigner - Running,Walk,Cycling courses version 1.14
RouteDesigner is a map App that can easily make running (jogging) or cycling courses.
By only choosing a waypoint, you can easily make your running course of target distance!
Aren 't you tired of running the same course?
Let's explore a new course using this App!

As this App corresponds input and output of KML file, it is convenient to use linking with Google Maps or Kashmir3D.


A quick guide to operation
(1) Move the map to the starting point.
(2) Use the "+" icon at the bottom left to set a starting point. (It will be set in the center of the screen.)
(3) Similarly set the points of passage sequentially.
(4) Where there is no road, set the selector at the top left to "Straight."
(5) When the course is ready, save it.


Main Function
- Creating running/cycling courses
- Measuring distance
- Save/recall the courses you created
- Searching function
- Creating a route along the roads/ creating direct route
- Switching Meter/ Mile
- KML files output
- Reading/displaying KML, KMZ and GPX files
- Displaying distance markers
- Writing memo on the map


Attention!
- When there are more than two routes in KML and KMZ files, the first route is applied.
Leave a comment
Tag: RouteDesigner - Running,Walk,Cycling courses , RouteDesigner - Running , Walk , Cycling courses