Speed Limit Free Speedometer for iPhone and iPad version 1.0
Genre: Navigation, Travel,
Title: Speed Limit Free Speedometer for iPhone and iPad
Version: 1.0
File size: 9.21 MB
Date released: 2015-06-18T21:55:47Z
Developer: Ben Thomas
Rating: 4+
Price: Free
Scan this image
DOWNLOAD PAGE
Share Speed Limit Free Speedometer for iPhone and iPad ^^
Supported Devices: Speed Limit Free Speedometer for iPhone and iPad 1.0 is compatible with iPad23G-iPad23G, iPhone6sPlus-iPhone6sPlus, iPadProCellular-iPadProCellular, iPadAir2Cellular-iPadAir2Cellular, iPadMini4Cellular-iPadMini4Cellular, iPadPro97Cellular-iPadPro97Cellular, iPhone7Plus-iPhone7Plus, iPhone4S-iPhone4S, iPadMiniRetinaCellular-iPadMiniRetinaCellular, iPhone5-iPhone5, iPadThirdGen4G-iPadThirdGen4G, iPhone5c-iPhone5c, iPhone5s-iPhone5s, iPad72-iPad72, iPadMini3Cellular-iPadMini3Cellular, iPadMini4G-iPadMini4G, iPadAirCellular-iPadAirCellular, iPhone6-iPhone6, iPhone7-iPhone7, iPadFourthGen4G-iPadFourthGen4G, iPhoneSE-iPhoneSE, iPad74-iPad74, iPhone6s-iPhone6s, iPhone6Plus-iPhone6Plus, iPad612-iPad612. Android and Windows Phone devices are supported when you access this page via your flatforms.
Tip: Access this page via QR code scan application on your smartphones.
App Screenshots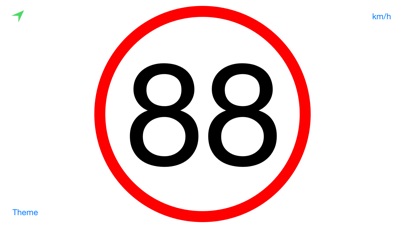 More information about Speed Limit Free Speedometer for iPhone and iPad version 1.0
Welcome to the newest free speedometer app for your iPhone and iPad. Designed to look like Australian (and probably other) speed limit signs.

This amazing new app has 6, yes SIX features:

- speed in km/h
- speed in miles per hour
- a day theme
- a night theme
- the speed in a big circle
- and last but not least, an accuracy indicator that changes from green to orange to red (hold on that's three separate features right there) when the location accuracy decreases.

In the next version you'll be able to choose from speed limit sign designs from other countries. Do you have other feature requests? Please email me at support@thomases.id.au.

* To have access to the GPS please grant permission to access your location - like all other navigation apps.

* Please note that the speed displayed is only as accurate as the speed reading in your iPhone. This app is not legal speed measuring device and should not be used as a substitute for your car's speedometer. Car speedos are often inaccurate too.
Leave a comment
Tag: Speed Limit Free Speedometer for iPhone and iPad , Speed Limit Free Speedometer for iPhone and iPad
New Apps