StuckUps - Blue Pack 1 version 1.1
Scan this image
DOWNLOAD PAGE
Share StuckUps - Blue Pack 1 ^^
Supported Devices: StuckUps - Blue Pack 1 1.1 is compatible with iPadAir2Cellular-iPadAir2Cellular, iPadMiniRetina-iPadMiniRetina, iPhone8-iPhone8, iPadProCellular-iPadProCellular, iPadMini3-iPadMini3, iPadAirCellular-iPadAirCellular, iPadPro97Cellular-iPadPro97Cellular, iPadFourthGen4G-iPadFourthGen4G, iPhone6s-iPhone6s, iPhone5-iPhone5, iPhone5c-iPhone5c, iPadMini3Cellular-iPadMini3Cellular, iPadMini4-iPadMini4, iPodTouchSixthGen-iPodTouchSixthGen, iPadMini4Cellular-iPadMini4Cellular, iPadPro97-iPadPro97, iPadPro-iPadPro, iPhone7Plus-iPhone7Plus, iPadFourthGen-iPadFourthGen, iPad611-iPad611, iPhone8Plus-iPhone8Plus, iPhone6sPlus-iPhone6sPlus, iPhone7-iPhone7, iPhoneSE-iPhoneSE, iPhone6-iPhone6, iPadMiniRetinaCellular-iPadMiniRetinaCellular, iPad71-iPad71, iPhoneX-iPhoneX, iPadAir2-iPadAir2, iPad72-iPad72, iPad73-iPad73, iPad74-iPad74, iPhone5s-iPhone5s, iPhone6Plus-iPhone6Plus, iPadAir-iPadAir, iPad612-iPad612. Android and Windows Phone devices are supported when you access this page via your flatforms.
Tip: Access this page via QR code scan application on your smartphones.
App Screenshots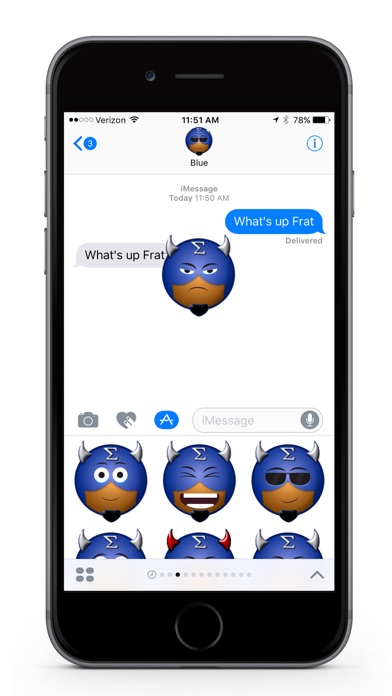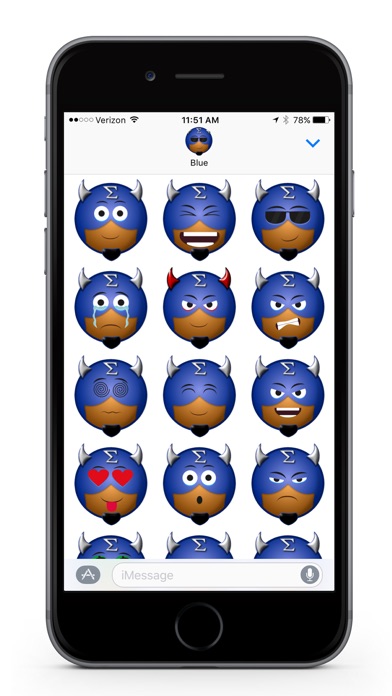 More information about StuckUps - Blue Pack 1 version 1.1
Blue Pack 1 is the first emoji/sticker pack from the StuckUps collection of the soon to be renown image company, StickEmUp. Blue Pack 1 features varied and stylish emoji/sticker images for those distinguished brothers also known as the Bad Boys in Blue! You already know who it is...

So, you have something to say? You might as well keep it Blue Phi. Peel, stick, repeat, and enjoy.

IMPORTANT USAGE NOTE: THIS IS AN IMESSAGE APP ONLY
You will not see a new app show up in the normal area. Message apps are installed directly into the Messages app itself. Once in Messages, click the button directly left of the typing area to access this Sticker Pack.
Leave a comment