Tattoos By MarcyMoji version 1.0
Scan this image
DOWNLOAD PAGE
Share Tattoos By MarcyMoji ^^
Supported Devices: Tattoos By MarcyMoji 1.0 is compatible with iPhone7-iPhone7, iPadPro-iPadPro, iPadPro97Cellular-iPadPro97Cellular, iPadFourthGen4G-iPadFourthGen4G, iPad611-iPad611, iPhone6sPlus-iPhone6sPlus, iPhone5c-iPhone5c, iPhone8Plus-iPhone8Plus, iPhoneX-iPhoneX, iPad72-iPad72, iPhone8-iPhone8, iPadAirCellular-iPadAirCellular, iPad612-iPad612, iPhone6s-iPhone6s, iPadProCellular-iPadProCellular, iPadMini4Cellular-iPadMini4Cellular, iPodTouchSixthGen-iPodTouchSixthGen, iPhone6-iPhone6, iPadAir-iPadAir, iPad73-iPad73, iPhone5-iPhone5, iPadPro97-iPadPro97, iPad74-iPad74, iPad71-iPad71, iPhone6Plus-iPhone6Plus, iPadMini3Cellular-iPadMini3Cellular, iPadMiniRetinaCellular-iPadMiniRetinaCellular, iPhone5s-iPhone5s, iPadMini3-iPadMini3, iPadAir2-iPadAir2, iPadMini4-iPadMini4, iPadMiniRetina-iPadMiniRetina, iPadAir2Cellular-iPadAir2Cellular, iPhone7Plus-iPhone7Plus, iPadFourthGen-iPadFourthGen, iPhoneSE-iPhoneSE. Android and Windows Phone devices are supported when you access this page via your flatforms.
Tip: Access this page via QR code scan application on your smartphones.
App Screenshots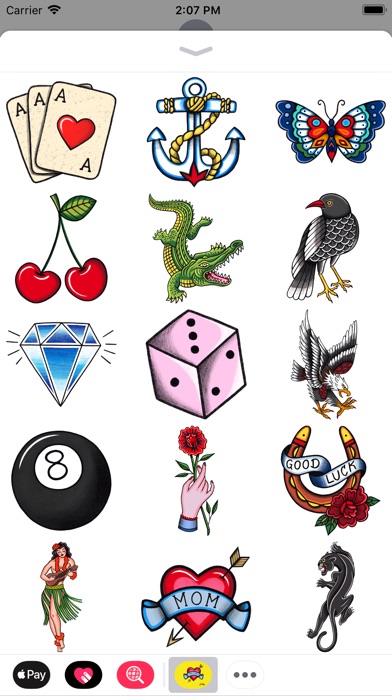 More information about Tattoos By MarcyMoji version 1.0
Tattoos by MarcyMoji is a hand painted collection of 30 beautiful tattoos - from pirates to mermaids, there's something for everyone here.

About the creators: Originally from Southern California, Marcy and Andrew are currently traveling the world by bicycle. As they travel, Marcy paints what she sees and what she misses from home.

Other Sticker packs available for purchase:
• Accessories
• Animals
• Camping
• Cats
• Dogs
• Dinosaurs
• Christmas
• Drinks
• Eats
• Faces
• Fiesta
• Hands
• Japan
• Love
• Summertime
• Tattoo
• Travel
• Vietnam
• Bali

If you have any issues, requests, comments, suggestions - or just simply want to say hello - please send us an email at support@marcymoji.com.

Quick tips on installing and using Sticker apps:
• To access iMessage apps, tap the App Store icon alongside the compose field to see your most recently used iMessage app.
• To continue browsing, tap the icon on the lower left corner which brings up the app drawer. From there, tap the plus icon to access the App Store for iMessage, where you can browse and download more apps. Here, you can also go to Manage where you can add your apps to your app drawer.
• To use a sticker within a conversation, you simply tap to send or you can touch and hold to place them on top of bubbles, other Stickers, or even photos. It feels just like peeling and pasting a traditional sticker.
• iPhone and iPad users (running iOS 10) and Apple Watch owners (running watchOS 3) can receive stickers. On Apple Watch, you can send any of the stickers you recently sent from iPhone or iPad. While technically accurate, you may have noticed that you can also receive stickers on earlier versions of iOS and other platforms but they're received inline as images and don't support being pasted on top of text, photos etc.
Leave a comment