TideLoc version 1.1

Genre: Weather,
Title: TideLoc
Version: 1.1
File size: 11.27 MB
Date released: 2015-06-04T05:39:46Z
Developer: Aaron Satterfield
Rating: 4+
Price: Free
Scan this image
DOWNLOAD PAGE
Share TideLoc ^^
Supported Devices: TideLoc 1.1 is compatible with iPadAirCellular-iPadAirCellular, iPhone5c-iPhone5c, iPadPro-iPadPro, iPadAir-iPadAir, iPhoneSE-iPhoneSE, iPadPro97Cellular-iPadPro97Cellular, iPhone6sPlus-iPhone6sPlus, iPhone7Plus-iPhone7Plus, iPad611-iPad611, iPadMini3Cellular-iPadMini3Cellular, iPadPro97-iPadPro97, iPhone6-iPhone6, iPad72-iPad72, iPodTouchFifthGen-iPodTouchFifthGen, iPadMiniRetinaCellular-iPadMiniRetinaCellular, iPhone8-iPhone8, iPodTouchSixthGen-iPodTouchSixthGen, iPadFourthGen-iPadFourthGen, iPad23G-iPad23G, iPadMini4Cellular-iPadMini4Cellular, iPadMini4-iPadMini4, iPhone5-iPhone5, iPadFourthGen4G-iPadFourthGen4G, iPhone4S-iPhone4S, iPhone6s-iPhone6s, iPadThirdGen4G-iPadThirdGen4G, iPhone8Plus-iPhone8Plus, iPad74-iPad74, iPadMiniRetina-iPadMiniRetina, iPhone5s-iPhone5s, iPadProCellular-iPadProCellular, iPad612-iPad612, iPad73-iPad73, iPhone6Plus-iPhone6Plus, iPhoneX-iPhoneX, iPadAir2Cellular-iPadAir2Cellular, iPadMini-iPadMini, iPhone7-iPhone7, iPadThirdGen-iPadThirdGen, iPad2Wifi-iPad2Wifi, iPadMini3-iPadMini3, iPad71-iPad71, iPadAir2-iPadAir2, iPadMini4G-iPadMini4G. Android and Windows Phone devices are supported when you access this page via your flatforms.
Tip: Access this page via QR code scan application on your smartphones.
App Screenshots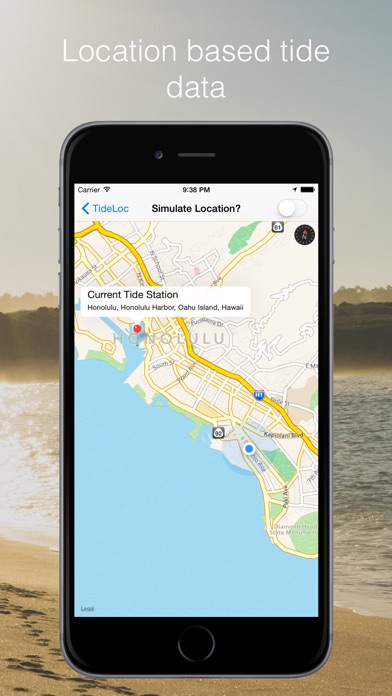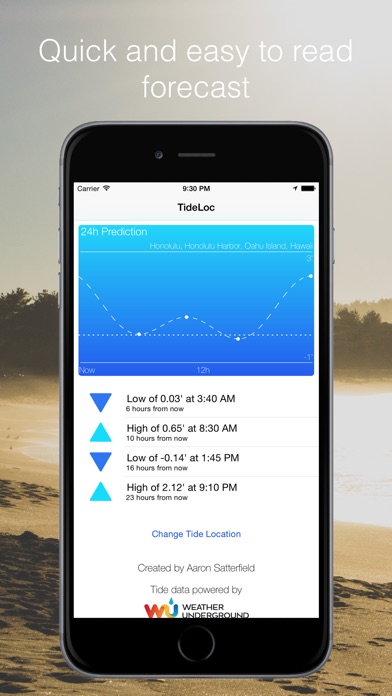 More information about TideLoc version 1.1
FREE for a limited time!

TideLoc provides you with easy to read, 24 hour tide predictions based on your location.

No more complicated charts.
The beautifully designed graph is a simple, yet functional, take on the old school tide graphs.

See exactly where the tide station is.
Use the map to see where your current tide station is located.

Change tide station based on location.
Press and hold the map to find the closest tide station to any location. (US Only)

Disclaimer: TideLoc is not to be used for navigation or for any purpose that could pose a personal risk to oneself or others or a risk to property. Tide forecasts displayed in this application do not take account for adverse weather or flooding. Always be aware of the current conditions. Know your limits and stay within them. You are responsible for your own safety! By using TideLoc you do so at your own discretion and risk that you will be solely responsible for any damages that may result, including injury, both personal and to property.
Leave a comment