Man of Steel Experience version 1.1.1

Version: 1.1.1
Name: Man of Steel Experience
Memory Space Requirement: 76.46 B
Released Date: 2013-05-01
Author: Warner Bros. Entertainment
How to install Man of Steel Experience?
Installation of Man of Steel Experience is very simple, please make sure that your phone has QR code scanning program. You can see the example image below to use QR code on your device
Scan the QR code below to download & install Man of Steel Experience
List of supported Devices: iPad72-iPad72, iPad612-iPad612, iPhone5s-iPhone5s, iPhone7Plus-iPhone7Plus, iPadAirCellular-iPadAirCellular, iPadProCellular-iPadProCellular, iPad23G-iPad23G, iPadFourthGen-iPadFourthGen, iPadPro97Cellular-iPadPro97Cellular, iPhone4S-iPhone4S, iPhone4-iPh. Android and Windows Phone devices are supported when you access this page via your flatforms.
Screenshots of this apps on mobile devices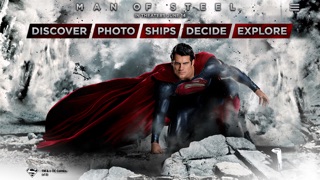 More description about Man of Steel Experience version 1.1.1
Get ready for Man of Steel – in theatres nationwide, June 14th.



Will you support Krypton or Earth? With the Man of Steel Experience app, you can show your support by burning Superman or General Zod's crest into your world. Share life-sized photos of you and Superman with friends through the magic of augmented reality and stay up to date on the latest trailers and photos from the movie.



For additional Man of Steel app features and cool movie content, head to Walmart stores, your home for all things Superman! See the main menu for how to purchase a ticket to the special screening of Man of Steel only for Walmart customers, on Thursday, June 13th, at 7 pm.
Interesting app? Share Man of Steel Experience with your friends!
Maybe you are interested in these applications!