Teen Titans Go Arcade version 1.1
Version: 1.1
Name: Teen Titans Go Arcade
Memory Space Requirement: 24 B
Released Date: 2013-07-03
Author: Warner Bros. Entertainment
How to install Teen Titans Go Arcade?
Installation of Teen Titans Go Arcade is very simple, please make sure that your phone has QR code scanning program. You can see the example image below to use QR code on your device
Scan the QR code below to download & install Teen Titans Go Arcade
List of supported Devices: iPodTouchFifthGen-iPodTouchFifthGen, iPhone5s-iPhone5s, iPad23G-iPad23G, iPadMini3-iPadMini3, iPadProCellular-iPadProCellular, iPadAir-iPadAir, iPadFourthGen4G-iPadFourthGen4G, iPad72-iPad72, iPadPro97Cellular-iPadPro97Cellular, iPhone6-iPhone6, iPadThird. Android and Windows Phone devices are supported when you access this page via your flatforms.
Screenshots of this apps on mobile devices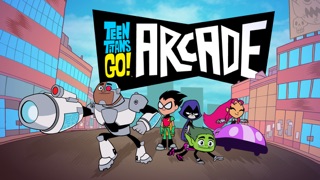 More description about Teen Titans Go Arcade version 1.1
Teen Titans Go Arcade features two games starring your favorite superheroes from the Teen Titans Go show on Cartoon Network: "Titans' Night Out" and "Meatball Party." In "Titan's Night Out" help Starfire and Raven escape the police on a madcap chase through Jump City. In Meatball Party, help Cyborg feed the hungry citizens and super heroes by shooting his favorite food--Meatballs!
Interesting app? Share Teen Titans Go Arcade with your friends!
Maybe you are interested in these applications!